Men take on Exodus 90 because someone they respect

invited them.
Men in your community are in desperate need of an Exodus. Not just during Exodus 90, but a full-on period of freedom and formation to conform our lives onto Jesus Christ himself.
But who is going to step up and lead the men of your community? Will it be you? 
Find resources on this page to help you discern and find out if this is the year you take your Exodus to the next level: by bringing more men into true freedom through Christ.
How
to lead

a fraternity.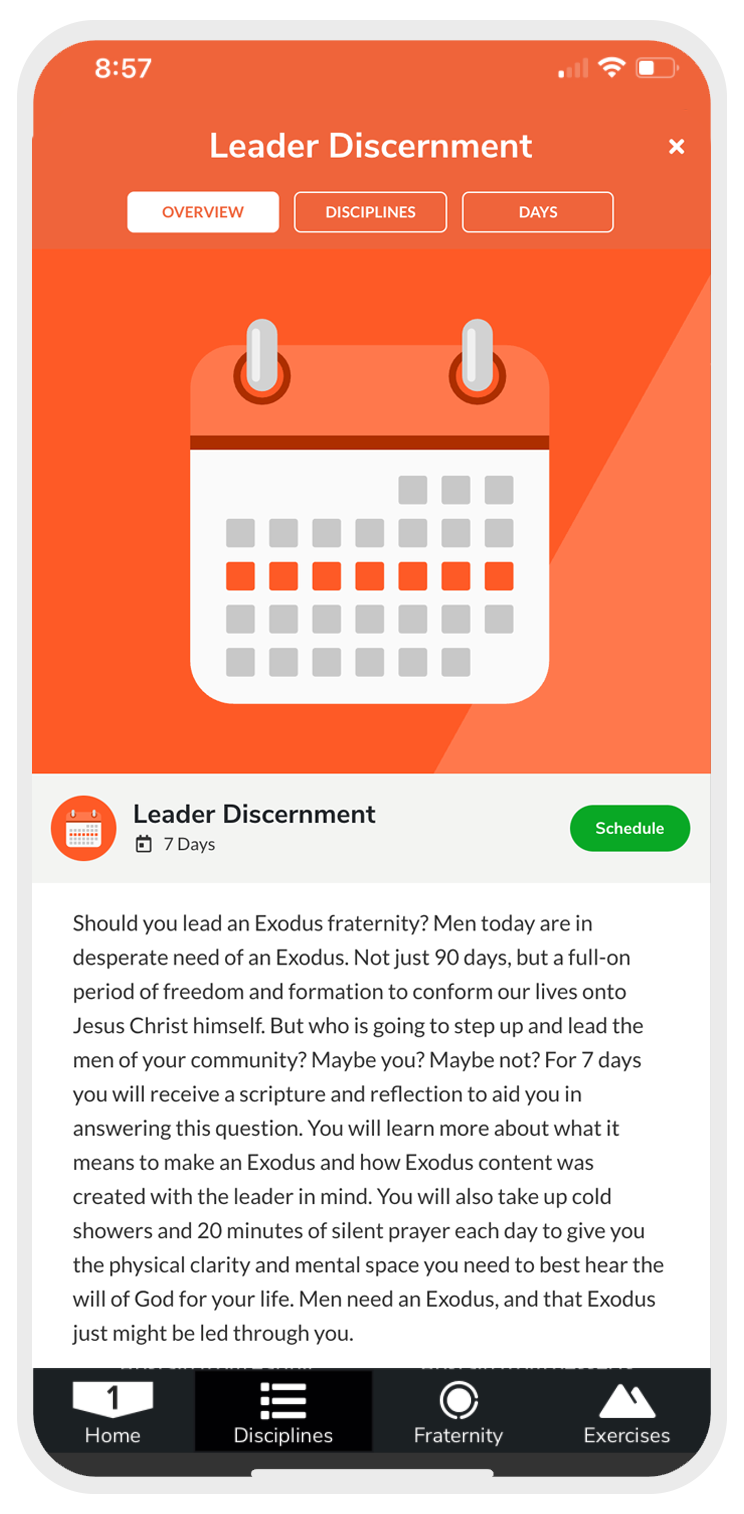 7-Day Challenge
During these 7 days (anytime prior to Exodus 90), you'll commit to praying each day and taking cold showers. A reflection has been written for you to sit with and reflect. By the end of day 7, you'll be ready to make a decision if this is the year you lead other men into the freedom of Christ.
Invite your Friends
You can't do Exodus 90 alone. Prayer, asceticism, and fraternity are the three pillars of the 90-day journey. Download this free resource to help you build your fraternity of 5-7 other men.
Read our tips for inviting brothers >
The Exodus Fraternity Leader Virtual Training was created to serve Exodus men across the world, helping them to become more effective fraternity leaders. When men become better leaders, our communities change. This event will give you more confidence and clarity in leading your brothers through the 90 days to Easter.
"With Exodus 90, the Holy Spirit invites you

to be men

while

society wants you

to be boys."
Bishop Joseph Strickland
Diocese of Tyler, TX
Previous Leader Livestreams
How to Start & Lead a Fraternity
w/ Nathaniel Binversie & Mark Pica
The Top 5 Qualities of a Good Fraternity Leader
w/ Nathaniel Binversie & Mark Quaranta
Leading a fraternity of men with little to no faith
w/ James Baxter & Doyle Baxter
Pre-Launch Leaders Event
w/ James Baxter and the Exodus team